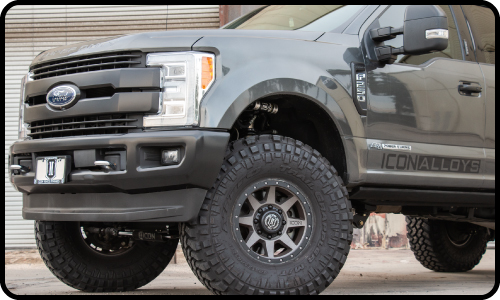 ICON Alloys is excited to announce the release of the 'Rebound HD', designed specifically to bring style and strength to today's most popular heavy duty 8-lug trucks. Combining sharp lines, a concave spoke design, and "ICON-optimized" dimensions this new wheel is designed not only to improve the looks of your 3/4 ton truck, but the overall function of the vehicle as well. Available in Satin Black, Bronze, and Titanium finishes with color-matched rock ring bolts, the Rebound has a style that is anything but ordinary.
INDUSTRY-LEADING 4,000LB LOAD RATING!
Staying true to the ICON Alloys approach, these 17" 8-lug Rebounds have been engineered to provide sufficient clearance of the large brake systems of today's HD pickups while optimizing wheel position for un-hindered suspension travel and steering function. Backspace and wheel offset dimensions have been strategically developed to reduce scrub radius, improving all-around handling and ride quality. These new heavy duty ICON Alloys Rebounds have been developed with strength in mind, yielding a 4,000lb load rating and making them our strongest wheels to date! With build features such as these, it's clear that a set of ICON Alloys Rebound wheels is the perfect complement to an ICON Vehicle Dynamics suspension system for your heavy duty truck.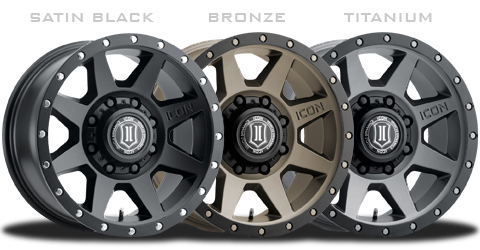 – Available in Satin Black, Bronze, and Titanium Finishes –
ABOUT ICON ALLOYS:
Developed by ICON Vehicle Dynamics (manufacturers of industry-leading performance suspension systems and shock absorbers) ICON Alloys was established with an objective to provide the off-road market quality wheels built with precision, performance, and strength in mind. Time after time in the development of suspension components the ICON R&D team ran into clearance, fitment, and steering geometry issues that limited the drivability and performance of a given vehicle. As this trend continued, the idea of manufacturing a line of wheels with the "form follows function" approach made more and more sense, and off to the drawing board it was…
PRECISION – Application-specific dimensions optimize vehicle dynamics and tire clearance for many of today's most popular vehicles.
PERFORMANCE – Engineered to reduce unsprung weight and rotating mass for increased vehicle performance both on and off-road.
STRENGTH – Aluminum alloy construction provides high-strength properties that are well suited for heavy off-road abuse.