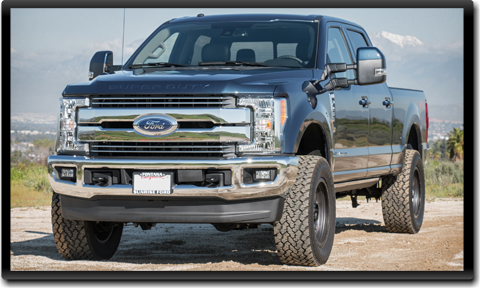 ICON Vehicle Dynamics is proud to announce the release of the 2.5" Suspension System lineup for 2017-UP Ford F250/F350 Super Duty 4WD trucks. Available in five pre-staged configurations each delivering a unique level of on and off-road performance, these 2.5″ suspension systems provide a 25% increase in front wheel travel and allow for the fitment of larger and more aggressive tires up to 35″.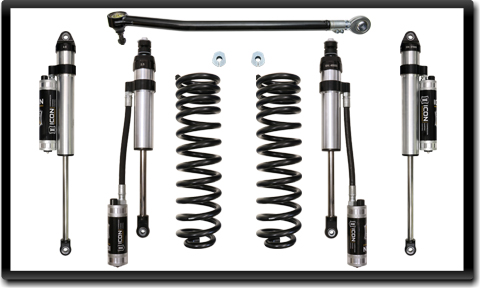 With several changes being made to the 2017 Super Duty platform including an all new aluminum body, ICON's R&D department went above and beyond to make sure the new Ford ¾ ton was properly analyzed. While a fair amount of the new Super Duty's suspension remains similar to previous models, ICON engineers deemed that the combination of a lighter weight construction and a more rigid, fully boxed frame was substantial enough for ICON to revise the valving of available shock options. In addition to this new vehicle-specific valving other changes made to the 2017 F250 / F350 required the development of a new track bar as well as redesigned radius arm and 4 link brackets.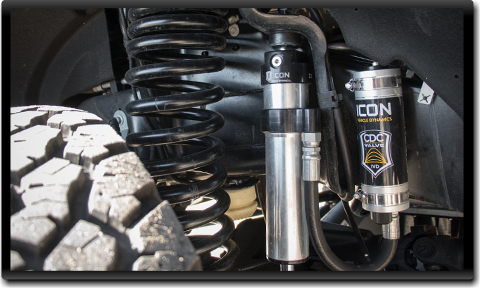 These 2.5" suspension systems are designed around ICON's dual rate coil springs, which have been meticulously engineered to strike the perfect balance between on-road comfort and off-road performance. ICON Vehicle Dynamics 2.0 Aluminum Series front and rear shocks have been valved specifically for the 2017-UP Ford F250/F350 to provide a balanced baseline performance of the vehicle from front to rear. As the stages increase larger 2.5 Series shock options and additional technology like the CDC Valve are provided to drastically increase overall damping ability and allow for end user ride adjustability. An all-new ICON track bar was designed for the 2017-UP Super Duty and features a heavy-duty OE replacement ball joint and a high strength FK Rod End bearing for precise fit and function. ICON's dual opposing steering stabilizer kit is also available with 2.0 Aluminum Series shocks to further improve overall handling of the vehicle.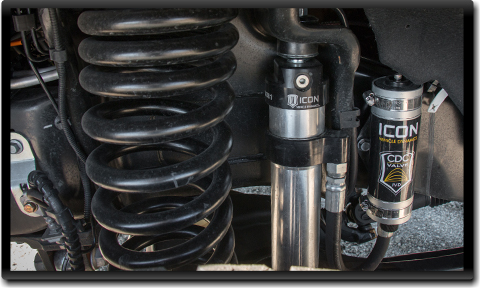 ICON Vehicle Dynamics products are proudly made in the USA at our Southern California based facility by a dedicated team of off-road enthusiasts. With a reputation built on quality, performance, and service it's clear that ICON Vehicle Dynamics is the top choice for performance suspension systems and shock absorbers for the 2017-UP Ford F250/F350 Super Duty.
KEY FEATURES:
Fits 2017-UP F250 / F350 4WD applications
Approximately 25% increased front wheel travel over stock
ICON-engineered dual rate coil springs deliver exceptional vehicle control over varying terrain
ICON shocks feature vehicle specific tune for superior performance and ride quality
Shocks are fully rebuildable and revalvable
Corrosion resistant anodized shock body with 5/8″ shaft (2.0 Aluminum Series shocks)
Corrosion resistant CAD plated shock body with 7/8″ shaft (2.5 Series shocks)
FK Rod End bearings provide extended longevity and minimal deflection
ICON CDC Valve allows quick and easy end user compression adjustability
Lifetime guarantee against coil spring breakage or sag
Lifetime guarantee against ICON fabricated component breakage or manufacturer defect
Made in the USA
OPTIONS:
TECH INFO:
Lift heights based on 4WD crew cab diesel configuration
Gas trucks will yield slightly taller front lift height
Bump stop spacer kit (Part # 64037) required if ICON steering stabilizer kit (Part #65000) is installed with 2.5″ system
Brake line kit (Part #61111) is optional for users looking for braided stainless upgrade – not necessary for complete install
WHEEL & TIRE FITMENT INFO:
OEM Wheels & Tires: Yes
Aftermarket Wheels: 8-8.5″ Wide, 5″ Backspace
Aftermarket Tires: 35 X 12.50 (Larger Tires May Fit but Fender Trimming and Modifications will be Required)