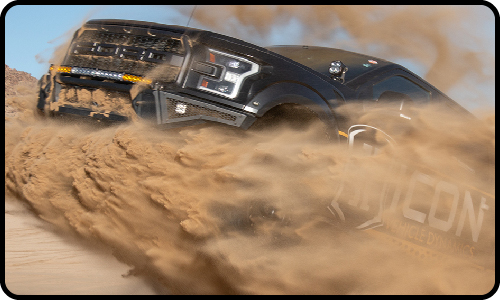 ICON Vehicle Dynamics is excited to announce our new Raptor Damper Interface Module, as well as several related product updates that address changes made for the GEN.2 Ford Raptor. The 2019 model year features new technology that ties the OE shocks into the vehicle's computer, so ICON's R&D department went above and beyond to make sure the updated truck was properly analyzed. With the introduction of this technology, ICON engineers were now focused not only the research of the suspension components on the Raptor, but the hardware attached to it all as well. This required a thorough exploration of the electrical systems featured on the new models' suspension to understand the areas which ICON could improve upon the OE components. By working around the factory suspension of these newer, "smarter" Raptors, ICON has developed several new parts that allow for a proper install of ICON products to provide the end-user improved ride quality, off-road performance, and the ability to tune the shocks themselves as opposed to being stuck with the stock ride modes.
2019-UP RAPTOR DAMPER INTERFACE MODULE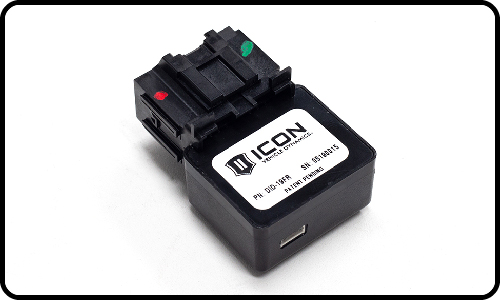 The 2019-UP Ford Raptor is very much the same as it's 2017 and 2018 counterparts, however new components and new technology prevent end-users from swapping the OE shock absorbers with aftermarket units such as ICON's 3.0 Series coilover and bypass in typical fashion. In order to prevent the newer model Raptors from going into an instant suspension "limp mode", ICON has worked to develop our Damper Interface Module that is a direct plug & play to the factory vehicle dynamics module. After the Damper Interface Module is installed ICON Vehicle Dynamics shocks can be bolted up in place of the OE units, and the truck will retain full function of it's terrain modes while providing the ICON performance and adjustability that has become well known in the Ford Raptor community.
Allows for install of ICON shock absorbers on 2019-UP Ford Raptor
Eliminates factory-dictated "ride modes" that are ill-tuned for extreme off-road use
Prevents truck from entering limp mode that will occur when OE shocks are removed
Direct plug & play to factory vehicle dynamics module
3.0 SERIES COILOVERS & BYPASS SHOCKS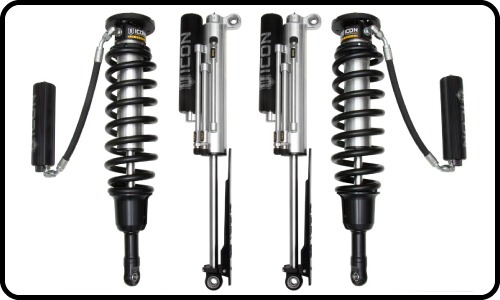 The vehicle-specific valving and high quality components featured in ICON's 3.0 Series shocks work together to provide exceptional on-road ride quality with excellent off-road characteristics. ICON's multi-stage hydraulic "Bump Zone" adds to the performance capability by providing an exponential increase in damping ability during the last 40% of compression travel for superior bottom-out resistance. In the ride zone, these 3.0 Series coilovers see a 50% increase in damping ability with the use of a significantly larger piston than what is found in the factory shocks. 10" finned aluminum reservoirs provide a generous amount of shock oil while also providing an increase in surface area (over 200%) for enhanced cooling and consistent damping. The addition of ICON's CDC Valve technology provides 10 settings of damping adjustment allowing the end-user to adjust the "feel" of the shocks for different terrains and vehicle cargo configurations. By way of an offset upper eyelet ICON engineers laid out a 3.0 Series bypass shock that maximized travel while utilizing the factory shock mounts. To control the rear end in specific ranges of travel, these shocks feature 3 unique bypass zones – 2 on the compression stroke and one rebound. Unlike other shocks that have a loud bypass "click" when functioning, ICON bypass valves feature damped valve stops for quiet and precise operation. Easy-to-adjust knobs allow for quick changes to shock tuning without the need for tools, enabling the user to dial in their ride with minimal down time. When in use on and off-road, ICON's patented Anti-Wobble Link stabilizes the shocks to prevent rotation and possible collision. Additionally, urethane shin guards protect the shock shafts and rod ends under grueling off-road conditions.
Height-adjustable coilovers provide a range of 0-3.5" of front lift height
Increased lift height allows for fitment of larger and more aggressive tires
ICON shocks feature vehicle specific tune for superior performance and ride quality
Up to 35% increase in front wheel travel over stock
FK Rod End bearings provide extended longevity and minimal deflection
Shocks are fully rebuildable and revalvable
2017-UP BILLET UPPER CONTROL ARM KIT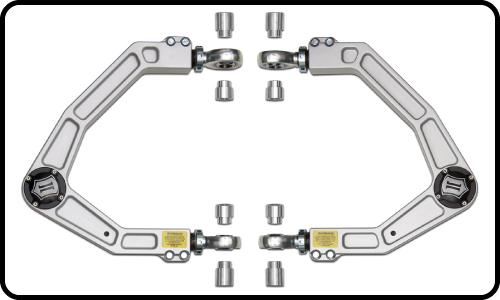 ICON's billet aluminum upper control arms are designed with built-in caster correction for predictable handling and feature on-vehicle camber/caster adjustment for precise vehicle alignment. These upper control arms include ICON's patent pending Delta Joint. The Delta Joint is a heavy duty high angle ball joint that combines the durability of a ball joint with the performance characteristics of a traditional uniball. The Delta Joint features a zinc plated housing providing the first layer of corrosion resistance, while a tough grease seal keeps potentially harmful elements out of the inner workings of the joint. Metal on metal construction and a greasable design increase the longevity of the Delta Joint while at the same time allowing for noise-free operation. What makes the Delta Joint unique is that it brings the best of both worlds to ICON upper control arms with features that make it more robust than a uniball, and at the same time capable of greater angularity than a typical ball joint.
ICON upper control arms allow for additional wheel travel while improving suspension geometry for predictable handling
Patent pending Delta Joint combines the durability and weather resistance of a ball joint with the performance characteristics of a uniball
Delta Joint upper control arms carry ICON's exclusive 5 year limited warranty
CNC machined 6061 billet aluminum upper control arms allow for on-vehicle camber and caster adjustment
Direct bolt-in design makes for a simple and straightforward installation
2017-UP RAPTOR .5-2.25″ ATTITUDE ADJUSTMENT COLLAR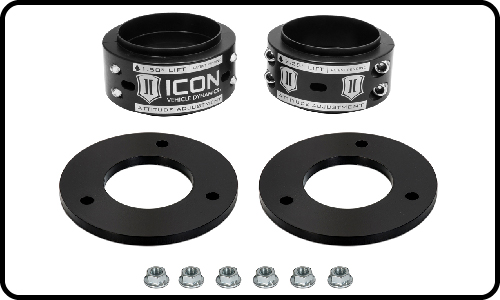 The ICON Attitude Adjustment Collar (AAC) is a patent pending multi-height coil spring collar that works in conjunction with a top load shim that can be configured in five unique ways to yield .5" to 2.25" of front lift height over stock. Installation of this leveling system requires no disassembly of the shock, making it a simple and straightforward process as opposed to other options currently available. CNC machined 6061 billet aluminum construction and a black anodized finish mean this product can stand up to the test of time in the harshest on and off-road conditions.
Features mounting holes for 2019-UP specific harnesses
Multi-height design can yield 0.5" to 2.25" of front lift height
Does not require disassembly of the shock for installation
CNC machined 6061 billet aluminum construction
Black anodized finish for corrosion resistance and great looks
Keeps OE shock in the ride zone, maintaining factory ride quality
Lifetime guarantee against component breakage or manufacturer defect
FORD RAPTOR IMPACT SERIES OFF-ROAD ARMOR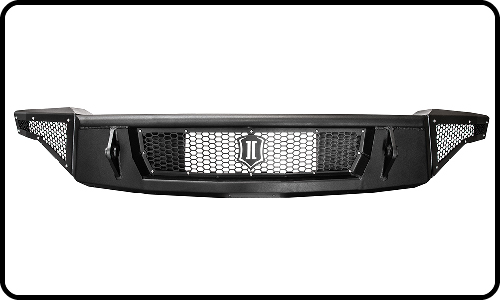 ICON Impact Series Off-Road Armor is designed for the enthusiast seeking a higher level of performance and protection while retaining OE styling cues and body lines. Staying true to ICON's holistic engineering approach, Impact Series Armor has been thoroughly tested through countless hours of research and development to ensure precise fitment, proper clearance, exceptional durability, and maximum strength.
The Impact Series system utilizes a modular design, allowing the owner to customize the look and functionality of the bumper to perfectly match their style. The "wings" on either side can be removed and three-inch square pod lights, like those available from KC HiLiTES, Baja Designs or other similarly sized lights, can be added while the center section of the bumper is designed to accommodate a 40-inch curved light bar. While this bumper can be installed using the existing factory skid plate, it can be upgraded with the addition of the Impact Series skid plate to provide increased underbody protection. Additionally, the center section of the bumper retains the brackets used for the radar and adaptive cruise control, allowing owners to maintain full functionality of those systems.
SEE MORE HERE: https://news.iconvehicledynamics.com/news/get-ready-for-impact-with-icon-impact-series-off-road-armor/