May 20th-21st, 2017
The Lucas Oil Off Road Racing Series headed over the border for Round 3 and 4 of the 2017 season, and Team ICON racers Eric Barron (Pro 4), Jeremy McGrath (Pro 2), and Brock Heger (Pro Lite) showed up to Estero Beach, MX ready to race. With all Team ICON racers on the podium on Saturday, the weekend was a solid showing for ICON Vehicle Dynamics, ICON Alloys, and the talented gentlemen behind the wheel.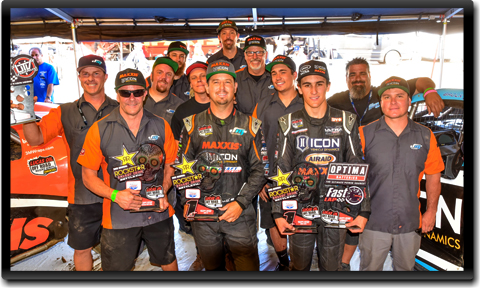 The JM2 team took things to another level on Saturday at Round 3 of the Lucas Oil Series. Both Jeremy McGrath and Brock Heger started on the pole and took the WIN in dramatic fashion. The Maxxis tires, ICON Vehicle Dynamics, Safecraft, Airaid trucks were working perfect all weekend in Estero Beach on a very technical, rough and unpredictable track. "My Pro Lite was working amazing all weekend. This track is unlike any other race during the year. Set up is everything! I think Jeremy and I have an advantage with awesome support from Maxxis Tires and ICON Suspension guys here at the race making sure we have what we need." Heger said after his race on Sunday. Brock Heger had a 1st and a 3rd on the weekend and remains the series points leader.
Jeremy McGrath had a stellar weekend in Mexico getting the WIN on Saturday and posting the fastest qualifying lap on Sunday. The Inversion was 6 so Jeremy would be pushed back to the outside of row 3 on the start, bummer!!! "Starting from the 6th position is hard to come back from at any race, but Mexico is the hardest. The roost was insane and I did my best to charge to the front. I had some heavy contact in turn three that left me with a bent tie rod. The truck was difficult to keep straight and a 5th was the best we could do today. My team did an amazing job, it was great to have my family here and the people in Baja are so welcoming! We sure do love Mexico and the WIN on Saturday felt great! Big Thank You to Maxxis tires, ICON Vehicle Dynamics, Safecraft, Airair, Bluemedia, Traxxas, Rigid, Gibson Exhaust, MPI, Rugged Radio, 3M wraps and the Lucas Oil off road racing crew for putting on a great race!" Jeremy said in a post-race interview on Sunday.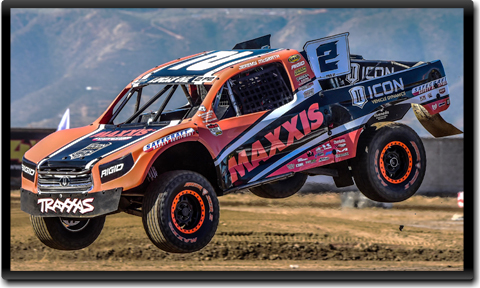 Eric Barron also had a solid weekend in the #32 Toyota Racing, ICON Vehicle Dynamics, ICON Alloys Pro 4. Saturday's race saw Barron take the checkers in 3rd place, meaning that Team ICON drivers were on the podium in Pro 4, Pro 2, and the Pro Lite classes! Sunday's race resulted in a 5th place finish for Barron and the Toyota Tundra. With a few new changes to his 2017 race program, Barron and his team will continue to make big improvements with every lap they put down. Setting their sights on the next round, we look forward to great things to come from the #32 crew!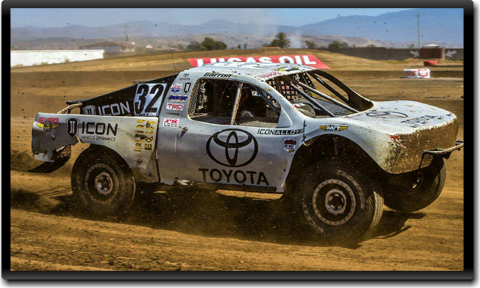 Team ICON and the Lucas Oil Off Road Racing Series heads to Salt Lake City for rounds 5 and 6 on June 24th and 25th. You can watch the team race live at www.lucasoilracing.tv
Follow the team on Instagram:
 @jeremymcgrathmotorsports
@brock_heger
@jeremymcgrath2
@ericbarron32