Stop Dreaming it. Start Building it.

Someday you're going to pull the trigger on your dream build. We're truck guys, too, we know how it goes. You've already got it spec'd out in your head. ICON Vehicle Dynamics® suspension, so it rides like butter but takes the whoops like a champ. ICON Alloys™ wheels to keep the rubber on track and look great while doing it. ICON Impact™ off-road armor to protect it all when the terrain fights back. And of course, all of the other modifications you are left to daydream about.
It goes without saying that all that awesomeness can really add up. Each of us at ICON Vehicle Dynamics are truck and 4X4 enthusiasts just like you, so we know the struggle. It can be tough to keep the build of your dreams in your head instead of in your driveway.
That's why we've introduced ICON Flex Pay. The funding you need to make some day… today.
What Makes ICON Flex Pay so Flexible?
There are several good reasons for your funding flexibility. First, the prequalification process is done by a search through hundreds of lenders, more than any other financing solution available in this category. That's pretty awesome, right? After you fill out a short application, within seconds you will be able to see your best loan options with only a soft credit pull that will not affect your credit score. Second, and no less equal, you're given the option of 12-, 24- and 36-, 48- or 60-month terms*, making it even easier to fund and build the truck of your dreams. Need we go on? Okay, there's more: Our credit limits are much higher than other major financing programs available*. So, your someday is now today, and your dreams can now be your reality.
Here's How it Works in 4 Easy Steps.
Shop IconVehicleDyanamics.com to add everything you need for your build to the shopping cart. Be sure you are logged in to your customer account. If you do not already have a customer account, you may create one HERE.

Once your shopping cart is populated with the items you need, you'll know the total cost. If you would like to finance all or part of the purchase, click the ICON Flex Pay button on the cart checkout page to apply. Or click HERE.

Fill out the short application for the amount you would like to finance, and submit the form. You will be presented with several loan offers from competing financial institutions. Choose the one which best fits your needs.

Your loan will be funded within a few short days*. Then you may return to IconVehicleDynamics.com, log in to your account, and your shopping cart will be waiting for you, ready for you to complete the transaction.
*Approvals, terms, and credit limits are subject to credit approval. Flex Pay funding may be applied to any ICON Vehicle Dynamics products sold direct from IconVehicleDynamics.com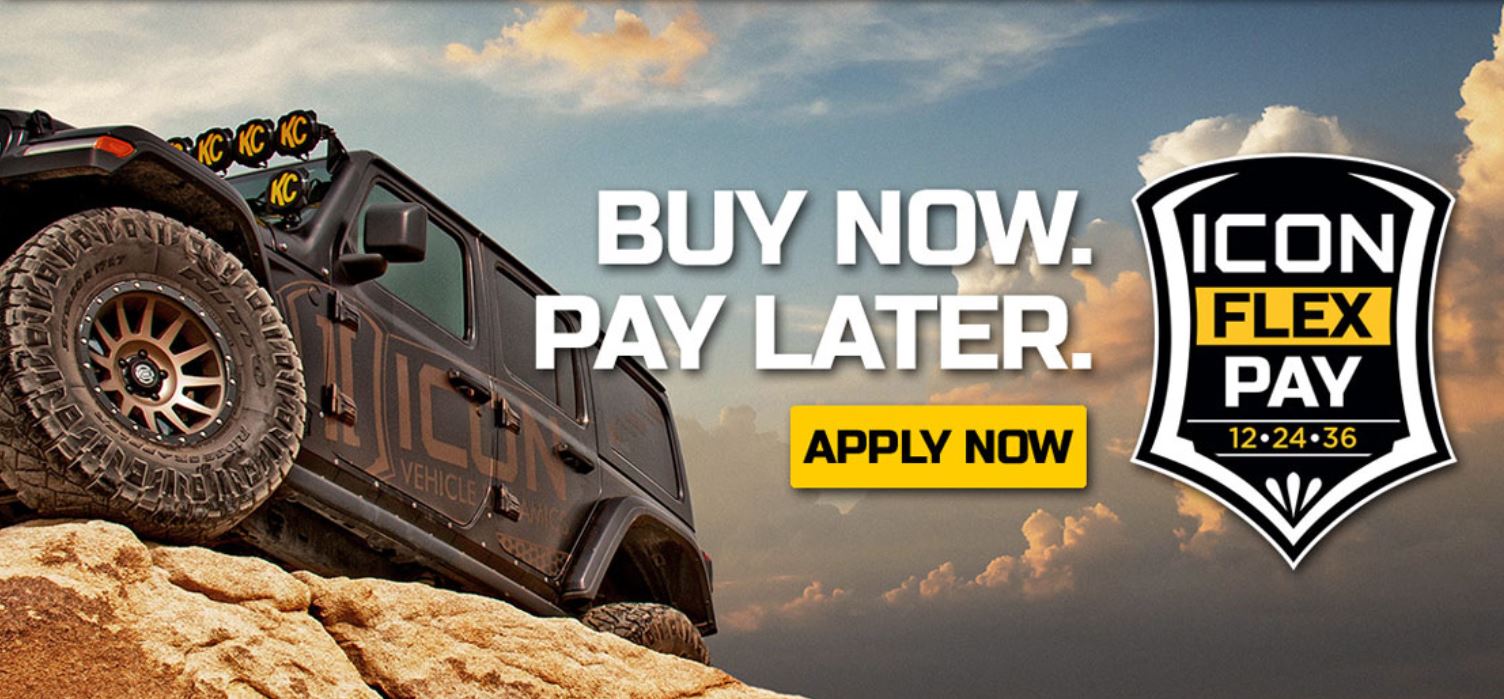 ICON Flex Pay – https://www.iconvehicledynamics.com/financing/