2007-2018 JEEP WRANGLER JK
PRO SERIES FRONT & REAR BUMPERS
ICON Vehicle Dynamics is proud to announce the release of new 2007-2018 Jeep Wrangler JK PRO Series products to our Impact Off-Road Armor line!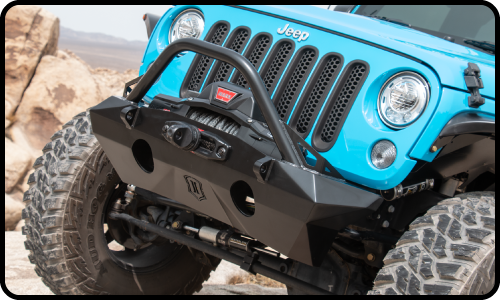 ICON has built a solid reputation for state of the art engineering, precision manufacturing and quality fit and finish in our industry-leading suspension and wheel products. Now, we bring that same dedication to excellence to armor, bumpers and off-road accessories under the ICON Impact product line.
---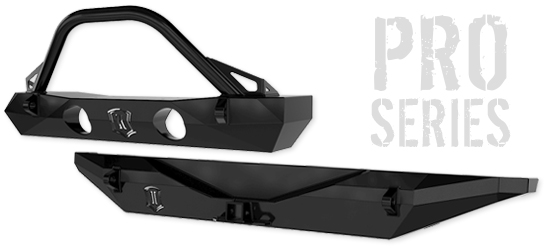 PRO Series wraps a handful of great features into a product that is easy to install with zero to minimum alterations of the Jeep itself. PRO Series makes the best use of the awesome off-road platform that the Jeep Wrangler provides and enhances it with the highest clearance, lowest profile bumpers possible without frame modifications or major surgery to the Jeep's body being necessary. All PRO Series bumpers are fabricated from CNC laser cut plate steel with faceted surfaces to achieve the best possible approach and departure angles with a simple, bolt-on installation. PRO Series bumpers are available with options such as top-mount or recessed winch mounts, heavy duty recovery shackle tabs, protected fog lamp buckets and gusseted Impact bars, while a great looking semi-gloss black, multi-stage powder coat finish comes standard across the line.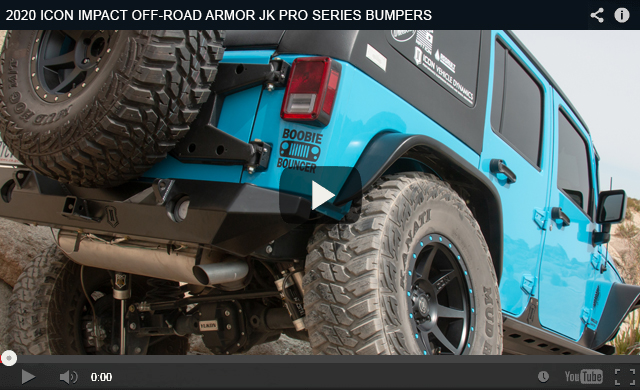 2007-2018 JEEP JK PRO SERIES FRONT BUMPERS

25212 | 07-18 JK PRO SERIES FRONT BUMPER W/ BAR & TABS
25213 | 07-18 JK PRO SERIES FRONT BUMPER W/ STINGER & TABS
25215 | 07-18 JK PRO SERIES FRONT BUMPER REC WINCH MNT W/ BAR & TABS
2007-2018 JEEP JK PRO SERIES REAR BUMPERS

25218 | 07-18 JK PRO SERIES 2 REAR BUMPER W/ HITCH & TABS
25219 | 07-18 JK PRO SERIES 2 REAR BUMPER W/ LIGHTS (FACTORY HITCH)
25227 | 07-18 JK PRO SERIES REAR BUMPER W/ TABS
---