2007-2018 JEEP WRANGLER JK
COMP SERIES FRONT & REAR BUMPERS
ICON Vehicle Dynamics is proud to announce the release of new 2007-2018 Jeep JK COMP Series products to our Impact Off-Road Armor line!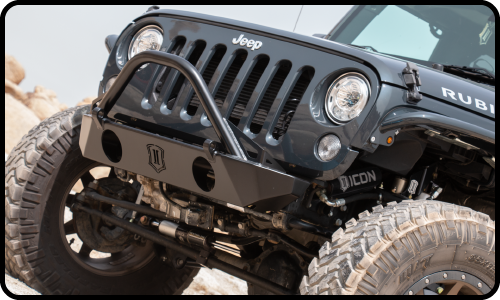 ICON has built a solid reputation for state of the art engineering, precision manufacturing and quality fit and finish in our industry-leading suspension and wheel products. Now, we bring that same dedication to excellence to armor, bumpers and off-road accessories under the ICON Impact product line.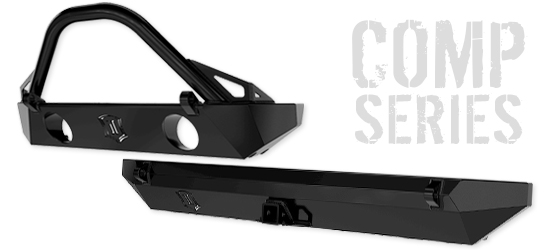 COMP Series takes the IMPACT product line a step further in off-road performance and purpose even though that might require a more rigorous installation process that may involve cutting away superfluous corners of the vehicle's frame rails or body sheet metal. COMP Series front and rear bumpers typically require removing the bulky stock frame horns to achieve an incredible amount of ground clearance and insane approach and departure angles with minimal lift. Jeepers who value hardcore trail performance, low center of gravity, and super strong (but lightweight) armor will find what they're looking for in COMP Series products. These bumpers are minimalist in size but packed with features such as integrated winch mounts, protected fog lamp buckets, gusseted bars or stingers, and a great looking semi-gloss black, multi-stage powder coat finish.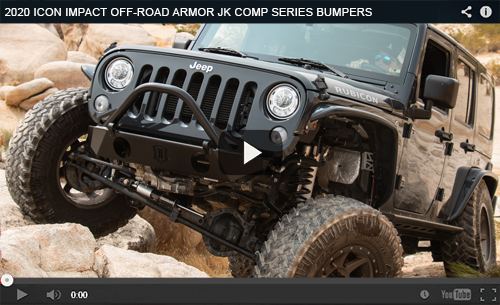 2007-2018 JEEP JK COMP SERIES FRONT BUMPERS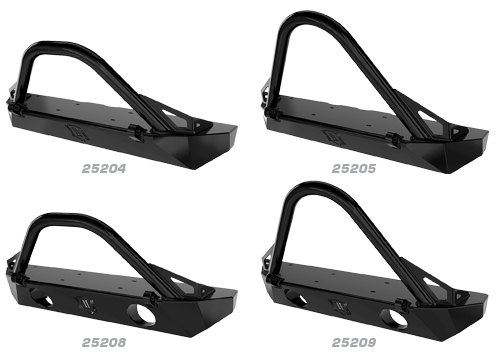 25204 | 07-18 JK COMP SERIES FRONT BUMPER W/ BAR & TABS
25205 | 07-18 JK COMP SERIES FRONT BUMPER W/ STINGER & TABS
25208 | 07-18 JK COMP SERIES FRONT BUMPER W/ FOGS BARS & TABS
25209 | 07-18 JK COMP SERIES FRONT BUMPER W/ FOGS STINGER & TABS
2007-2018 JEEP JK COMP SERIES REAR BUMPER
25216 | 07-18 JK COMP SERIES REAR BUMPER W/ HITCH AND TABS