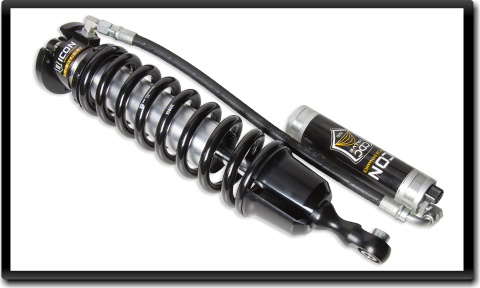 The 2007-UP Toyota Tundra is an awesome truck considering the powerful 5.7 drivetrain option, sturdy body-on-frame construction, and the Toyota reputation for performance and reliability. The big Toyota pickup can quite easily become a serious off-roader when equipped with the proper combination of aftermarket parts to realize the wheel travel that the vehicle is capable of. For years, a Tundra with an ICON upper control arm, 2.5 coilovers, and ICON rear shocks could easily exceed the capabilities of any slightly modified "stock" truck out there. More recently, however, new contenders in the pickup truck segment have raised the bar for what's to be expected from a truck with little to no modification once off the dealer's lot. Realizing this, ICON is proud to announce the release of our new 3.0 Series coilover for the 2007-UP Tundra.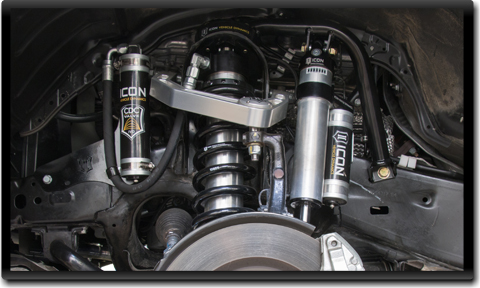 While ICON's 2.5 Series coilovers are an excellent choice for drivers looking for a great all-around performance upgrade, there are a select few Tundra owners seeking to drive their vehicles in a manner and in terrain that beckons for more. The ICON Vehicle Dynamics 2007-UP Toyota Tundra 3.0 Series Coilover Kit was designed to take the off-road capability of the truck to new levels by significantly improving the damping ability and bottom-out control of the front shocks with an internal multi stage bump stop.
Compared to the 2.5" diameter coilovers the 3.0 Series shocks see a piston surface area increase of 50% in the ride zone, and 100% in the "Bump Zone". This translates into increased stability and vehicle control at the extremes of off-road use, with benefits also making themselves apparent in on-road driving conditions. The multi-stage hydraulic Bump Zone featured in these 3.0 Series shocks rapidly increases bottom-out resistance as the shock travels through the last 40% of travel, keeping vehicle dynamics in check during those hard hits or unexpected obstacles.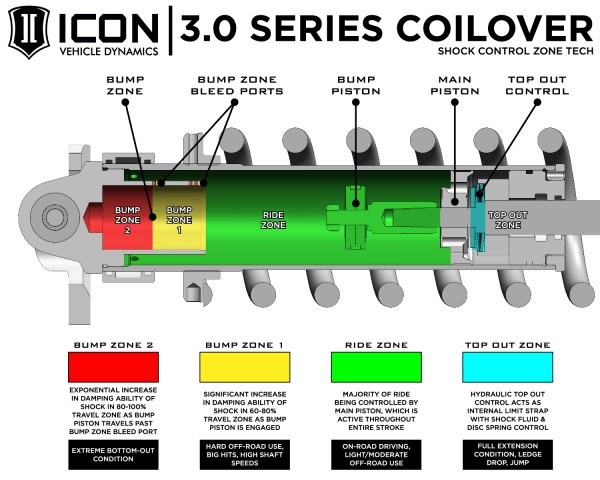 These 3.0 Series coilovers were designed as an OEM shock replacement, making install a simple and straightforward bolt-on affair. Built in ride height adjustability yields 1.63-3.5" of front lift height allowing for the fitment of larger, more aggressive wheel and tire combinations. First class ICON manufacturing processes and quality components such as Eibach coil springs and FK Rod End bearings are used to ensure these shocks function to their maximum potential without issue.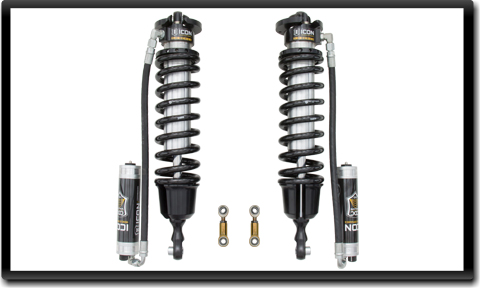 ICON products are proudly made in the USA at our Southern California based facility by a dedicated team of off-road enthusiasts. With a reputation for quality, performance, and service it's clear that ICON Vehicle Dynamics is the top choice for performance suspension systems and shock absorbers for the 2007-UP Toyota Tundra.
KEY FEATURES
Significant increase in damping ability for excellent performance in extreme off-road conditions
Increased wheel travel and vehicle specific valving provides comfortable and consistent ride quality on and off-road
Adjustable coilovers provide 1.63-3.5" of front lift height
Direct bolt-in to OEM shock location makes for an easy install
ICON's multi-stage, tuneable hydraulic "Bump Zone" exponentially increases bottom-out resistance in the last 40% of compression travel
Easy-to-adjust CDC Valve (Compression Damping Control)  allows for end-user compression changes to suit all types of terrain and vehicle cargo configurations
10" aluminum reservoirs provide generous oil and nitrogen volume for consistent damping as shock temperature increases
High quality ICON-engineered Eibach springs offer increased travel and performance
PTFE lined COM12 spherical bearings ensure maximum strength and durability
Heavy duty 1" CNC machined shock shafts
Multi stage CAD plated shock body with hard anodized piston and top cap
Fully serviceable
 "ICON 1K" tested under rigorous off-road conditions to validate tune, performance, strength, and durability
Made in the USA
TECH INFO
Aftermarket UCA required
Sway bar tips must be rounded off for coil cup clearance
WHEEL & TIRE FITMENT INFO: