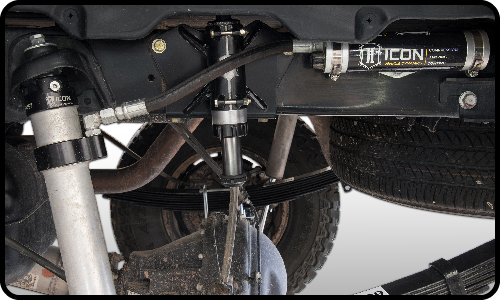 The 2007-2017 Toyota Tundra is a very capable and versatile truck with features that make it suitable for use as everything from daily driver, to tow rig, to adventure vehicle and everything in between. From the brutal deserts of the Southwest to the wooded trails of the East coast ICON suspension systems have been put to the test and performed flawlessly for this popular Toyota. Over the span of hundreds of hours in the shop and over a thousand miles in the dirt, ICON Vehicle Dynamics' engineers have pushed this vehicle to extremes in order to develop the most sophisticated suspension components on the market. Unable to leave "well-enough" alone, ICON is aiming to raise the bar in Tundra performance with the introduction of the RXT Rear Suspension System.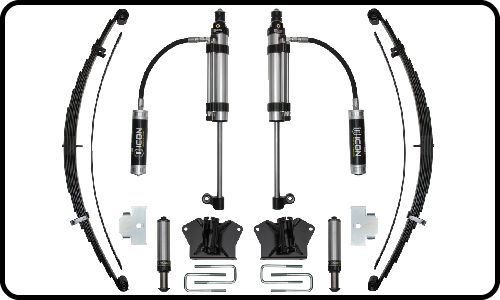 Through an accelerated testing process dubbed the "ICON1K" R&D program, ICON has spent over a year pushing the Tundra to off-road extremes to identify limiting factors in OE components and further extrapolate performance out of this vehicle. In a push to provide unparalleled ride quality and vehicle dynamics for everything from high-speed desert running to off the grid expedition, the RXT Rear Suspension System was born. The RXT Rear Suspension System is a combination of an all new ICON multi-rate leaf spring, a hydraulic rear bump stop kit, and three RXT-specific 2.5 Series rear shock options. Installation of this system replaces the aforementioned "limiting factors" and completely redefines the potential of the 2007-2017 Toyota Tundra with a 20% increase in wheel travel and the ability to adjust the leaf spring rate to compensate for varying vehicle setups.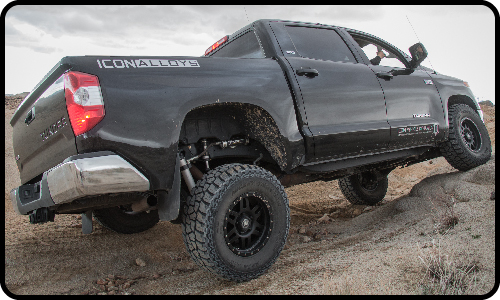 ICON RXT Multi-Rate Leaf Spring
The backbone of the Tundra RXT Rear Suspension System is a user-adjustable multi-rate leaf pack that offers a major performance gain for almost every accessory & gear setup imaginable. Features like tip inserts and leaf separators reduce friction and increase ride comfort, while a military wrapped front eyelet improves the durability and strength of the leaf spring. To increase the ride quality of the truck and gain additional droop travel, the spring rate has been lowered slightly. While many Tundra owners will embrace this, there are those who have outfitted their trucks with a significant amount of weight in the form of a bed rack, roof top tent, spare tires, parts, or other additions. Taking this into consideration, the leaf pack was designed with an additional leaf (included with kit) that can be exchanged or added to the pack yielding an additional 15% or 25% in spring rate that will handle more "outfitted" vehicles.
ICON RXT Rear Shocks
To compliment the RXT Multi-Rate Leaf Spring, three new ICON shock options have been developed to control the suspension throughout this new range of travel. These include a 2.5 Series remote reservoir shock, a 2.5 Series CDC Valve shock, and a two-tube Omega bypass option – each of which provides unique levels of performance to the rear end of the Tundra. The increase in wheel travel was answered with a unique side-mount eyelet approach that allowed ICON engineers to develop a shock that is shorter in collapsed length, longer at extension, and still fits in the factory mounting location. A large ten inch remote reservoir was added to aid in heat dissipation and resist shock fade during spirited driving.
ICON Hydraulic Rear Bump Stop Kit
The job of the bump stop is to control and limit the final position of the suspension during up-travel. The factory rubber bump stops have a limited energy absorption capacity and an uncontrolled release of this energy upon rebound – translating into a harsh ride and poor handling during more aggressive driving in rough terrain. ICON's Tundra Rear Bump Stop Kit absorbs and releases this energy in a much more controlled manner resulting in predictable handling and vehicle dynamics. Like all ICON hydraulic bump stops, these feature velocity sensitive technology which means that as the shaft speed increases the damping ability ramps up to provide excellent bottoming resistance that won't negatively affect articulation.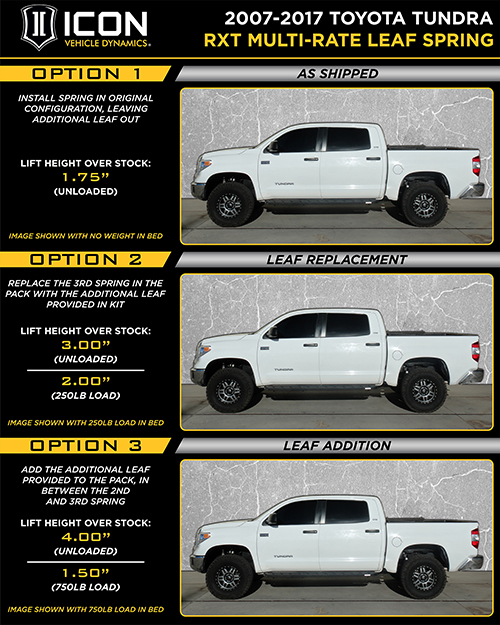 KEY FEATURES
ICON RXT Multi-Rate Leaf Spring
3 user-adjustable spring rates for unique vehicle configurations
Military wrap front eyelet for increased durability
Galvanized leaf separators reduce friction and aid in corrosion resistance
Leaf tip inserts reduce noise and increase ride comfort
Potential for increased wheel travel when used with RXT shock (up to 20%) without sacrificing up-travel
Direct bolt-in to OEM spring location makes for an easy install
"ICON 1K" tested under rigorous off-road conditions to validate tune, performance, strength, and durability
ICON RXT Rear Shocks
Unique side-mounted lower eyelet allows for increased travel while utilizing factory mounting location
Vehicle-specific tuned shocks provide increased damping and oil volume
CDC Valve technology allows for 10 settings of quick and easy compression damping adjustment
Omega Series two-tube bypass allows for 24 settings of compression and rebound damping adjustment
Easy-to-adjust detented knobs offer quick adjustability without the use of tools
10" aluminum reservoirs provide generous oil and nitrogen volume for consistent damping as shock temperature increases
CAD plated body for maximum corrosion resistance
Shocks are fully rebuildable and revalveable
Simple and straightforward installation
"ICON 1K" tested under rigorous off-road conditions to validate tune, performance, strength, and durability
ICON Hydraulic Rear Bump Stop Kit
2.5" travel bump stop reduces rear end 'kick' and improves overall performance
Position sensitive technology exponentially increases bottom-out resistance
Vehicle specific bump stop tune to provide smooth engagement and best ride quality
Direct bolt-in to OEM bump stop location makes for an easy and straightforward install
Heavy duty 1.25" CNC machined nitro steel shaft
CAD plated body for maximum corrosion resistance
Double sealed high pressure Schrader valve
Operating range of 50-250 PSI
Replaceable noise-reducing striker pad
Fully serviceable
"ICON 1K" tested under rigorous off-road conditions to validate tune, performance, strength, and durability