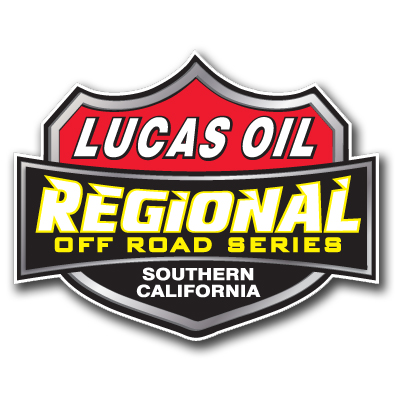 Saturday March 10th marked the 2nd time the Lucas Oil Regional Offroad Racing Series rolled into San Bernardino, California's Glen Helen Raceway this year, and it did not disappoint. With clear blue skies, warm temperatures, and a great track-prep job, the fans and the racers were due for a great race. The action was electric right from the get-go, with all of the classes displaying their true shortcourse nature throughout the day. When the time came for the mini stock drivers to hit the track, the action definitely heated up.
Six Mini-Stock trucks showed up to do battle in heat one, with some great wheel to wheel action, some close calls, and a few moments that had the crowd on their tip-toes trying to take in all the action. When it was all over, ICON- supported driver Mike Jenkins had captured the checkers, with Cody Jeffries close behind and last year's Mini-Stock champion, Andrea Pathiakis rounding out the top 3. As the drivers headed back to their pits for the final race of the day, some mechanical adjustments were made and some driving strategies were changed in an attempt to shake up the final finishing positions.
As the Mini-Stocks headed back onto the track for their final race of the day and the green flag dropped, it was evident that these changes allowed some drivers to charge much harder than the previous race, and some door-banging, clay-slinging carnage ensued. Many of the mini-stocks received some battle scars as they exchanged positions lap after lap on Glen Helen's technical, yet multi-lined battlefield of a race course. At the drop of the checkered flag however, it was the #99 of Mike Jenkins on top yet again, with Garrett Goorsky in pursuit, and ICON's Andrea Pathiakis again in 3rd . With ICON-backed racers standing on top of the podium in a consistent fashion, it is clear that the ICON Vehicle Dynamics product can withstand the abuses of shortcourse racing and help to mold grassroots drivers into capable offroad talents.
The results from Saturday's race place Mike Jenkins in the 2012 championship lead with 118 points, Andrea Pathiakis in 2nd with 111, and Garrett Goorsky in 3rd with 104 points. The season is young, and the action continues to get more and more intense with each round, so don't miss out on LORORS Round 3 at Lake Elsinore, CA on Saturday, June 9th!