ICON Vehicle Dynamics is proud to announce the release of our complete suspension systems for the 2014-UP Ford Expedition. Currently available in two layouts with unique upper control arm options these systems provide up to a 20% increase in wheel travel and allow for the fitment of larger and more aggressive tires.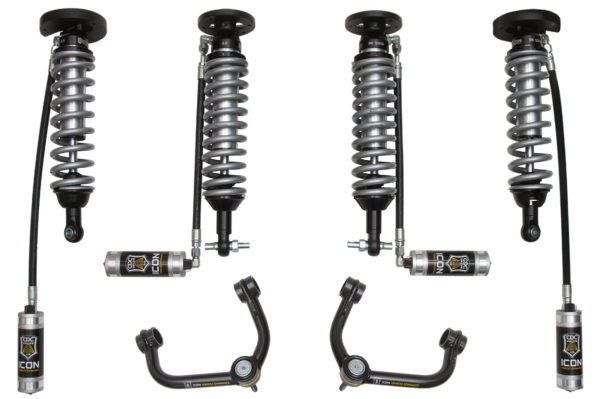 Like any application that makes its way into ICON's research and development department, the Ford Expedition was examined thoroughly in stock form in an attempt to find where the OE components were limiting performance or could be improved upon. After hours of in-house R&D and thousands of miles of real-world testing a collection of ICON components including front and rear coilovers and upper control arms were organized into two staged suspension systems that each delivers a unique level of performance to the Expedition. A remarkable level of performance is established with the 2.5 Series remote reservoir CDC Valve shocks included in ICON's Stage 1 system, and only improves with the addition of upper control arms (tubular steel or billet aluminum) in the Stage 2 systems. These systems drastically increase the vehicle's ride quality, reduce body roll, maximize wheel travel, and provide a lift height range of .75-2.25" to allow for the fitment of larger, more aggressive wheel and tire combinations. A bolt-on design also makes for an easy install with the ability for the vehicle to be returned to stock if needed.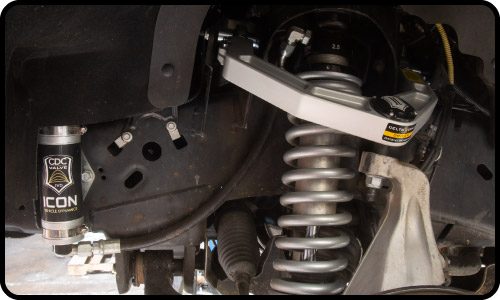 Holistic Engineering – the ICON Difference…
When developing suspension components for a new vehicle, ICON takes a different approach than many others. Rather than focusing in on one particular part, ICON engineers look at the vehicle as a whole, identify inherent strengths and weaknesses, and set a target for performance. With a focus on maximizing wheel travel and improving ride quality, ICON will develop components that address (and often times replace) OE limiting factors. This "holistic engineering" philosophy often results in the development of several parts designed to work together as a system to provide balanced on and off-road performance. Because ICON is designing and manufacturing all of the components necessary to improve the performance of a vehicle from front to back, end-users can rest easy knowing they are dealing with ONE manufacturer, ONE standard of quality, and ONE awesome warranty to back it all up.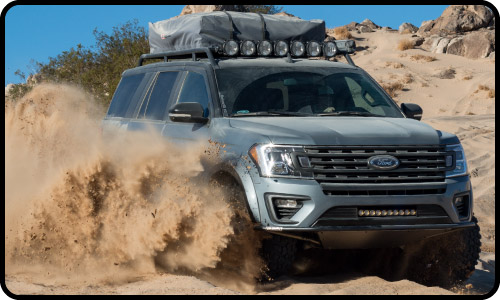 ICON Vehicle Dynamics products are proudly designed, manufactured, and assembled in Riverside, California by a team of passionate off-road enthusiasts. With a reputation for quality, performance, and service it's clear that ICON Vehicle Dynamics is the top choice for performance suspension systems and shock absorbers for enthusiasts that demand the highest levels of performance, ruggedness, and durability out of their suspension systems.
KEY FEATURES
Adjustable coilovers provide .75-2.25″ of lift height
Increased lift height allows for fitment of larger and more aggressive tires
Up to 20% increase in wheel travel
ICON shocks feature vehicle specific tune for superior performance and ride quality
Corrosion resistant CAD plated shock body with 7/8″ shaft
CDCV technology allows for quick and easy compression damping adjustment
Shocks are fully rebuildable and revalveable
1 year warranty on ICON 2.5 Series shocks
Direct bolt-in design makes for a simple and straightforward installation
ICON upper control arms allow for additional wheel travel while improving suspension geometry for improved on and off-road performance
Billet aluminum UCA's feature on-vehicle camber and caster adjustability for easy alignment and the ability to fine tune vehicle handling
Patent pending Delta Joint combines the durability and weather resistance of a ball joint with the performance characteristics of a uniball
Delta Joint upper control arms carry ICON's exclusive 5 year limited warranty when used in a complete ICON suspension system
Lifetime warranty against ICON fabricated component breakage or manufacturer defect

WHEEL & TIRE FITMENT INFO
OEM Wheels & Tires: Yes
Aftermarket Wheels: 8.5" Wide, 5" Backspace
Aftermarket Tires: 33×11.50R17
Recommended Wheel: ICON Alloys | 6MM Offset | 5″ B/S
(Larger tires may fit but fender trimming and modifications will be required!)
TECH INFO
Fits 4WD applications only
Rear lift heights over 1″ increase AdvanceTrac sensitivity