Alexander Motorsports takes the 2012 Best In The Desert Class 5000 Championship with the Henderson 250 race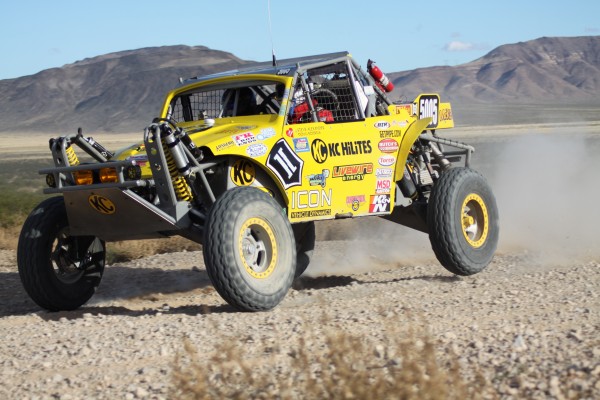 Photo by Kellan Chavies
The Henderson 250 race in Jean, NV on December 1st was the last race of the Best In The Desert (BITD) 2012 series. This was Alexander Motorsports first year running with BITD; the goal was to be consistent and it proved to be successful. Out of 6 races they were able to podium 5 times, 4 of them being first place.
With the Bluewater Desert Challenge race in Parker, AZ Alexander Motorsports already earned enough points to secure the Class 5000 Championship and only needed to start the Henderson 250 race. This was a golden opportunity for Steve Alexander to push the car harder than he ever had to test the new front suspension and prove its reliability. The goal was to overall their heat which started at 9:30am. The first half of the race ran flawless with Steve as the driver and Kris Trajano navigating running in second place, 4 minutes behind the leader, Bryan Folks in his Ford powered Class 1100.
After a short pit stop for fuel, and driver/co-driver changes, Doug Roorda with Gavin Ferguson navigating would continue the fight. Doug was able to shorten the distance from the lead car down to 2 minutes. With only 20 miles to the finish Doug clipped the side of a rock at 90 mph, taking out the left rear tire. Unfortunately he chose the worst area to try to change a tire, with a mixture of silt and sand they could not get the car jacked up high enough to remove the tire. After working like 2 groundhogs digging enough dirt out from under the tire, 14 minutes had elapsed and they were now running 10th. Doug hammered down catching and passing one car and giving Alexander Motorsports a 9th overall, 1st in class finish.
The new Longero Motorsports front suspension along with ICON Vehicle Dynamics shocks proved to be bullet proof and handled every bit of power delivered by the Wiks Racing Engines Type 4 paired up with the RC Trans prepped Mendeola 2-d. The new air filtration system with K&N Filters kept the motor running clean and powerful. The pre filter worked so well that the secondary filter was spotless.
This would not have been possible without the awesome support of the title sponsor KC HiLiTES!
Their next race will be the 2013 Best In The Desert Parker 425 "The Legend Lives on" on February 2nd, 2013.
Thanks to everyone that made this possible starting with the expert maintenance of the Alexander Motorsports crew and the support of the following sponsors: KC HiLiTES, Livewire Energy, ICON Vehicle Dynamics, Wiks Racing Engines, RC Trans, Mickey Thompson Tires, Longero Motorsports, FK Rod Ends, K&N Filters, MSD Ignition, Torco Advanced Lubricants, BTR Wheels, Butch's Speed Shop and Patrick Sign's.