Press Release
ICON Vehicle Dynamics Sponsored Mongo Racing Finishes 2012 BITD Off-Road Racing Season Strong and Makes Statement For 2013!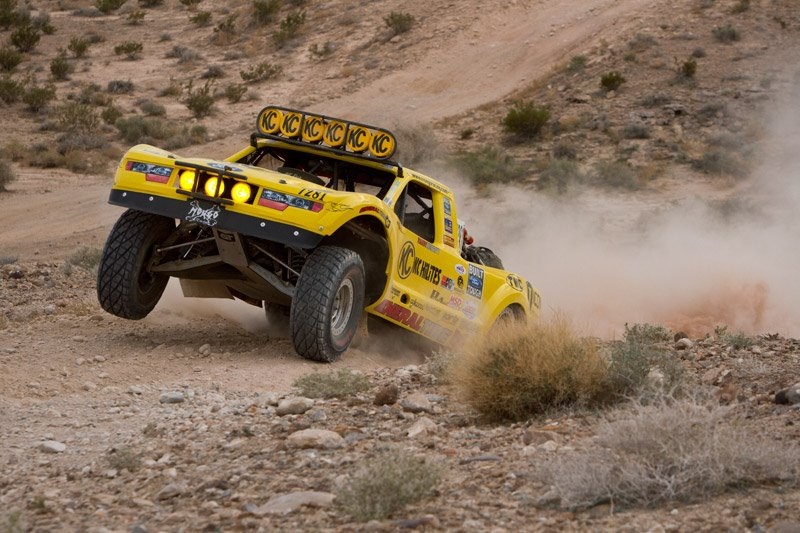 By Steven Draper
The Henderson 250 was the last race of the 2012 Best In The Desert Racing Association season and was held on December 1, 2012 near Henderson NV. Class 7200 was one of the classes where the season points Championship would be decided at the finish line.
2012 was a break through year for Randy Merritt and Mongo Racing from Parker, AZ in their all new Class 7200 built by Tracy Rubio at TNC Machine in Kingman, AZ. Merritt entered the BITD Henderson 250 Third in Class 7200 points with a chance at the 2012 Class 7200 Season Points Championship. Merritt knew he would have to win this race to have a chance at the 2012 Class 7200 Season Points Championship and to win this race would require Merritt to attack the rough and rocky course very aggressively while putting his 2012 KC Hilites General Tire TNC Machine Mongo Racing Class 7200 Ford Truck through some of the most extreme torture testing known to man on this day.
Merritt debuted his 2012 KC Hilites General Tire TNC Machine Mongo Racing Class 7200 Ford Truck at this year's BITD Mint 400 and posted his first win in Class 7200 at the BITD Vegas 2 Reno, "The Longest Off-Road Race in the United States."
Merritt began the 2012 Henderson 250 first in Class and took the hole shot after the side by side start, but the excitement would be short lived as Merritt and his Co-Rider Chris Golding soon stopped near race mile 5 with flat tire, while stopped the entire Class 7200 and Class 8000 field passed them, and the advantage of class lead was gone. Merritt and Golding soon were back on track again racing hard. At the start of the second 80 mile lap Merritt was making up time and position as crossed the start/finish 7th position. Merritt continued to pick off trucks and cars as he raced across the Nevada desert.
By race mile 31 on the third lap Merritt and Golding had again assumed the Class 7200 lead and raced towards the finish line behind their KC Hilites 70W HID Pod lights lighting the way. Near race mile 54 Merritt again was sidelined with flat tire and was passed by the eventual Class 7200 race winner and Class 7200 Points Champion. Merritt crossed the finish line 11 minutes behind the race winner in 2nd place.
At the finish line Merritt said, "We had 2 flats today and I take responsibility for them as I was driving very aggressively today because I knew I needed to win this race for a chance at the 2012 Class 7200 Driver Points Championship. Congrats to Sean Backus on his Championship, but I think my team and I have figured this truck out and can't wait for the 2013 season to start."
Merritt finished the 2012 BITD Henderson 250 in 2nd place in Class 7200 and showed his consistency as he finished 2nd in the 2012 Class 7200 Drivers Points Championship.
Randy Merritt and Mongo Racing's next race is the 2013 Best In The Desert Parker 425, "The Legend Lives On," January 31-Febuary 3, 2013.
The Mongo Racing Class 7200 Unlimited Ford number 7281 is sponsored by KC HiLiTes, General Tires, TNC Machine, ICON Vehicle Dynamics, Trail Ready Bead Lock Wheels, Kincaid Racing Engines, Yukon, Wilwood, Pro AM, EBC Brakes, Master Craft Safety Innovations, Lucas Oil, K&N Filters, Borla Exhaust, MSD Ignition, and Mongo Made Graphics.
Visit www.mongoracing.com for additional information about the team and sponsorship opportunity.
Photo courtesy of General Tire.