The Only Easy Day Was Yesterday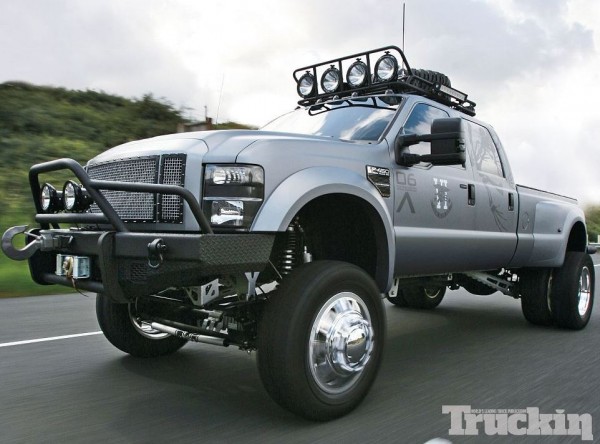 In 2001, an unthinkable act of terrorism was carried out against the United States. From that day, a manhunt was underway to capture and/or kill the man behind this attack. Almost ten years later, a few dozen men from the elite SEAL Team 6 infiltrated a compound and killed Osama Bin Laden, bringing closure to the lives lost on 9/11. Armen Adjarian, owner of True Bliss Customs in Canoga Park, California, wanted to build a truck dedicated to these men. He went out and picked up a 2009 Ford F-450 Super Duty. He then set it upon himself to build a truck suitable for the men of SEAL Team 6.
The SEALs are a versatile group of men who are trained to fight in the sea, air, and land. If this truck was going to be dedicated to them, it had to be able to go anywhere. To accomplish this, Armen installed a Rize 8-inch lift kit after painting the frame flat black. Icon coilovers complement this and offer bump relief. The rear suspension consists of Atlas leaf springs and a pair of Icon piggyback shocks. Twenty-two-inch American Force wheels wrapped in 37-inch Interco rubber converted the F-450 into a rolling battleship and SSBC rotors help bring the whole rig to a quick halt if the mission changes suddenly.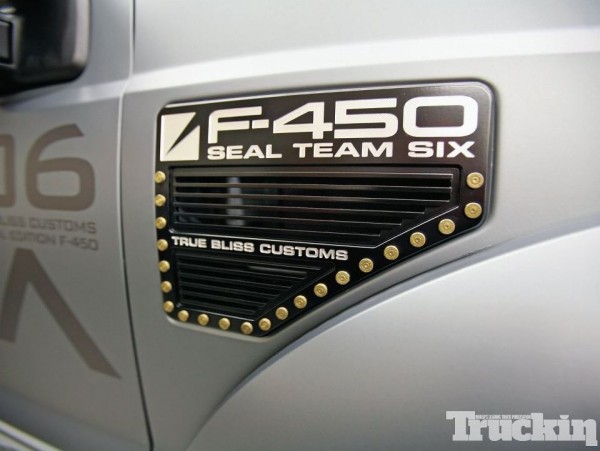 Being able to quickly get into and out from behind enemy lines is a must for the SEALs. Knowing this, Armen added a Snow Performance water-methanol injection system to the 6.4L turbodiesel engine. He then added an S&B intake to get more air into the engine and a 5-inch straight-pipe exhaust to get air out. A diesel making almost 600 hp creates a lot of heat and gives away your position on infrared video cameras, so a Spearco intercooler helps keep the engine temperatures in check.
Now the Ford had the power and clearance to go just about anywhere, but it was still too flashy and could be spotted from miles away. Normally, the Navy is out at sea and uses flat gray on their ships to help camouflage them. With this in mind, Armen used mattegray vinyl to wrap the truck in hopes of making it a little subtler. The wrap allows him to be adaptable like the SEALs and he can change it depending on his operating environment. The next goal was making the truck more utilitarian.This came by way of Ranch Hand bumpers front and rear that were sprayed with flat black bedliner. Up front, a Mile Marker winch was mounted and allows Armen to pull friendlies out of sticky situations. On top of the crew cab, an SMPFabrication rack was installed to hold a spare tire. This rack also houses three Baja Designs LED lightbars and four BullDog Lighting round lights. A set of custom aluminum badges were made for the truck by Billet Badges, Inc. Finally, to protect cargo, captured combatants, or wounded soldiers, a Retrax tonneau cover was installed over the bed.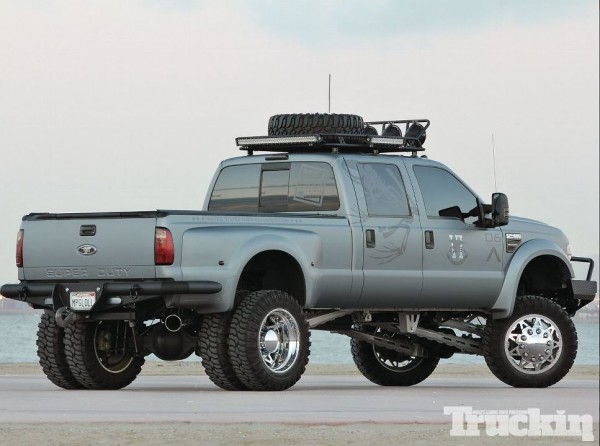 Armen's Super Duty was built to be driven into battle and come out the other side victorious, but after the SEALs bust their humps for days on end, they need a comfortable place to rest and relax until the next mission comes across their desk. To make the interior a welcoming environment, Armen wrapped the heated and cooled seats in black Katzkin leather. He then wrapped the headliner in matching leather. A Cobra CB radio provides a source of communication when out of cell range, and the factory navigation head unit pumps out the tunes. All in all, the interior provides a location suitable for even the most tired SEAL to ready himself for the next challenge.
When the truck was complete, Armen knew it was for a good cause. He wanted to send a big thanks to the men and women of the United States military for everything they do to ensure we have the freedom that America is known for. He also wanted to thank all of his sponsors on the truck, all the guys at his True Bliss Customs shop, and his wife Nelly for all of her love and support throughout the whole build.
Inside the Build
Year Make Model:
2009 Ford F-450
Owner and City/State:
Armen Adjarian • Canoga Park, California
Engine
Type: 6.4L PowerStroke turbodiesel
Induction: S&B Intake, water-meth injection
Exhaust: 5-inch straight-pipe with MagnaFlow muffler
Cooling: Spearco intercooler
Engine Management: H&S Tuner
Output: 580 hp and 800 lb-ft of torque
Built by: True Bliss Customs, Canoga Park, California
Drivetrain
Transmission: 5R110W five-speed automatic
Rearend: Factory with 4.88 gears
Chassis
Front suspension: Rize 8-inch lift, Icon coilovers
Rear suspension: Atlas leaf springs, Icon shocks
Brakes: SSBC slotted and drilled rotors
Wheels & tires
Wheels: 22×8½-inch American Force Star
Tires: 37×13.50R22 Interco SSM16